(serves 4) Ingredients: 1 lb ground chicken breast 1 tbsp Liquid Gold Oregano White Balsamic 1 garlic clove, minced 7 tbsp crumbled feta cheese 4 hamburger buns Boston Lettuce - to top burgers 2/3 cup roasted red peppers 6 or so roughly chopped LG Sunbaked Olives (or try our Black Olive Tapenade)   Directions: Preheat grill or broiler. In a medium bowl, combine chicken oregano balsamic, garlic & feta. Divide mixture into 4 balls and press them gently into patties. Grill or broil patties until internal temperature reaches 75 C - or about 7-8 minutes on each side Serve each...
---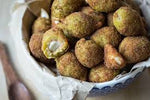 Ingredients:   Robust EVOO for frying 1 jar Garlic Stuffed Olives 1 Egg ¾ cup Italian seasoned bread crumbs     Directions: Pour enough olive oil into a saucepan to reach a depth of 2". Heat over medium-high until the oil reaches 350 degrees Fahrenheit. Place the egg in a small bowl and beat with a fork or whisk. Add the olives and coat well. Pour the bread crumbs into a shallow dish. Transfer the egg-soaked olives to the plate and evenly coat in bread crumbs. Fry the olives in the pre-heated oil in three batches until golden brown, about...
---
Also called Caponata, this spread from Sicily can be served bruschetta style on toasted baguette slices or as a sauce for grilled chicken breasts. It can be thinned with broth and served over pasta. 4 medium eggplants, peeled and diced 4 onions, sliced 1 1/2 cups olive oil Medium Intensity UP Extra Virgin Olive Oil 1/2 cup canned tomato sauce 4 stalks celery, diced 12 green olives, pitted and diced (Castelveltrano)  2 tablespoons capers 12 large black olives, pitted and diced 1 tablespoon of pine nuts 1/2 cup red wine vinegar 1/4 cup sugar Salt and Pepper Trim and peel...