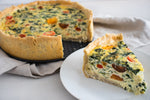 EVOO Crust: 2 cups all purpose flour 2 teaspoons salt 2/3 cups Pesto EVOO 1/2 cup cold water Filling: 9 eggs, beaten 1 1/2 cups half and half 4oz fontina cheese, grated 2oz parmesan cheese, grated 2 shallots, peeled and diced 1 garlic clove, peeled and minced 2 cups baby spinach 2 cups Tuscan kale 1 pint tri-colored cherry tomatoes, halved 1/2 teaspoon salt 1/4 teaspoon cracked black pepper Instructions: Preheat oven to 350°F. Place flour and salt in the bowl of a stand mixer fitted with the paddle attachment, and stir to combine. Add olive oil and water to...
---
Ingredients: 2 cups Fresh Basil 2 cups Spinach 2 Cloves Garlic 1/4 cup Raw Walnuts 2 Tbsp. Hemp Seeds (optional) 1/4 cup Water 1/4 cup LG Mild Extra Virgin Olive Oil + more to seal 2 Tbsp. Nutritional Yeast 1 Tbsp. LG Pinot Nero Rose Balsamic Salt & Pepper to taste   Directions: Simply combine all ingredients into a blender until thick and creamy. You can add extra olive oil to thin it out the sauce if you wish. (Always add the olive oil to the very top layer and refrigerate to keep the pesto moist and fresh.   By...
---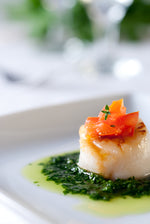 Ingredients: Scallops, seared (2 per person as appetizer, 3-4 seconde) Cherry tomatoes, diced, seasoned Pesto (see below) Pesto 5 cups basil 1 clove garlic Salt 1 tbsp pine nuts 1/4 cup Mild Liquid Gold Extra Virgin Olive Oil 1/4 cup Parmigiano-Reggiano, grated Method: Wash and dry basil. Place dry ingredients in a food processor and pulse. Slowly add the extra virgin olive oil. Add grated Parmigiano-Reggiano. Mix well. To serve place seared scallops on top of pesto, topped with diced cherry tomatoes (seasoned with salt and pepper).