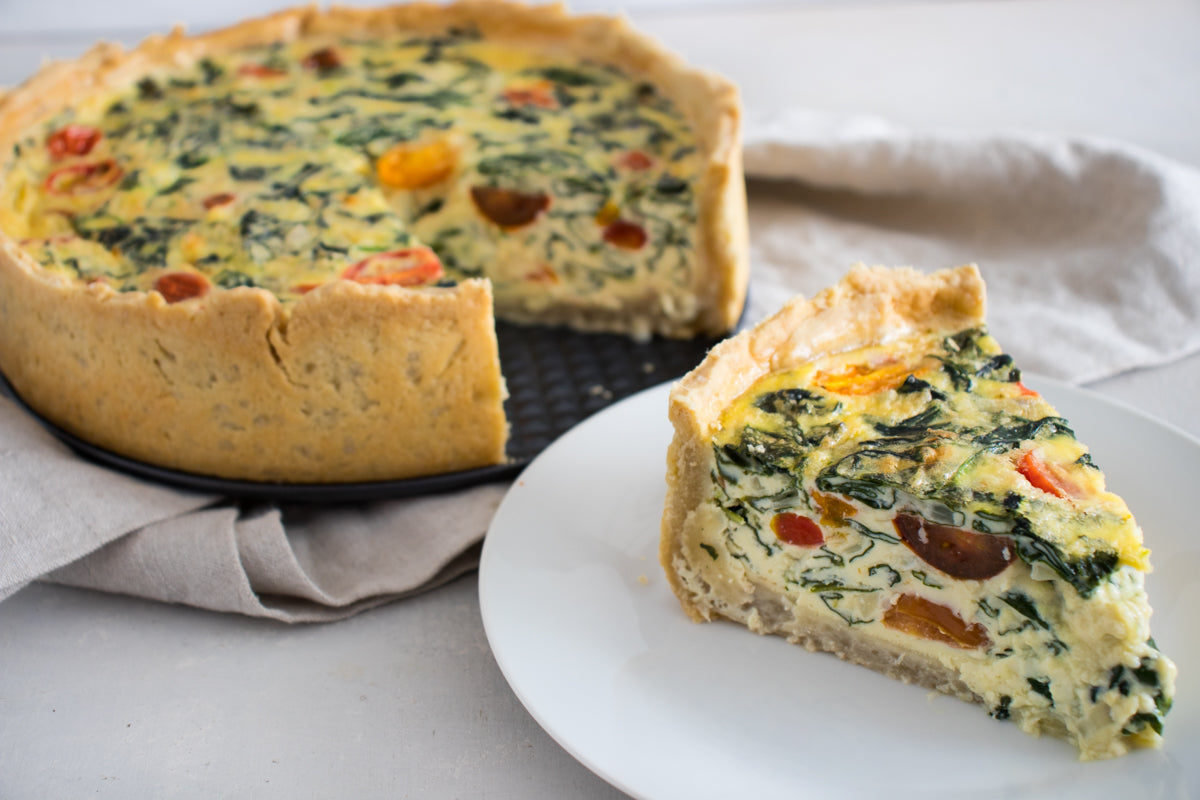 EVOO Crust:
2 cups all purpose flour
2 teaspoons salt
2/3 cups Pesto EVOO
1/2 cup cold water
Filling:
9 eggs, beaten
1 1/2 cups half and half
4oz fontina cheese, grated
2oz parmesan cheese, grated
2 shallots, peeled and diced
1 garlic clove, peeled and minced
2 cups baby spinach
2 cups Tuscan kale
1 pint tri-colored cherry tomatoes, halved
1/2 teaspoon salt
1/4 teaspoon cracked black pepper
Instructions:
Preheat oven to 350°F. Place flour and salt in the bowl of a stand mixer fitted with the paddle attachment, and stir to combine. Add olive oil and water to the flour and continue to stir, on low, creating a shaggy dough (the dough should resemble sugar cookie dough, not quite like traditional pie dough). Sprinkle a little flour on a clean work surfaced roll the dough into a large circle (large enough to fit your spring form pan). Transfer the dough to the spring form pan, pressing the dough into the sides and edges. Place a sheet of parchment over the dough and weigh down with pie weights or dried beans. Place the crust in the oven and bake for 15- 20 minutes or until the crust is lightly golden. Remove from the oven and set aside to cool. In a large bowl, place eggs and half and half, whisk to combine. Add fontina, parmesan, shallots, garlic, spinach, kale, tomatoes, salt, and pepper, stir to combine. Once the pie crust is cool to the touch, pour in the egg mixture, and return to the oven (place a large baking sheet under the spring form pan to help catch any drips). Bake the quiche for 1 hour, rotating the pan halfway through the baking process, or until the quiche is firm with just a slight jiggle in the middle. Remove from the oven and set aside to cool completely before slicing and serving.