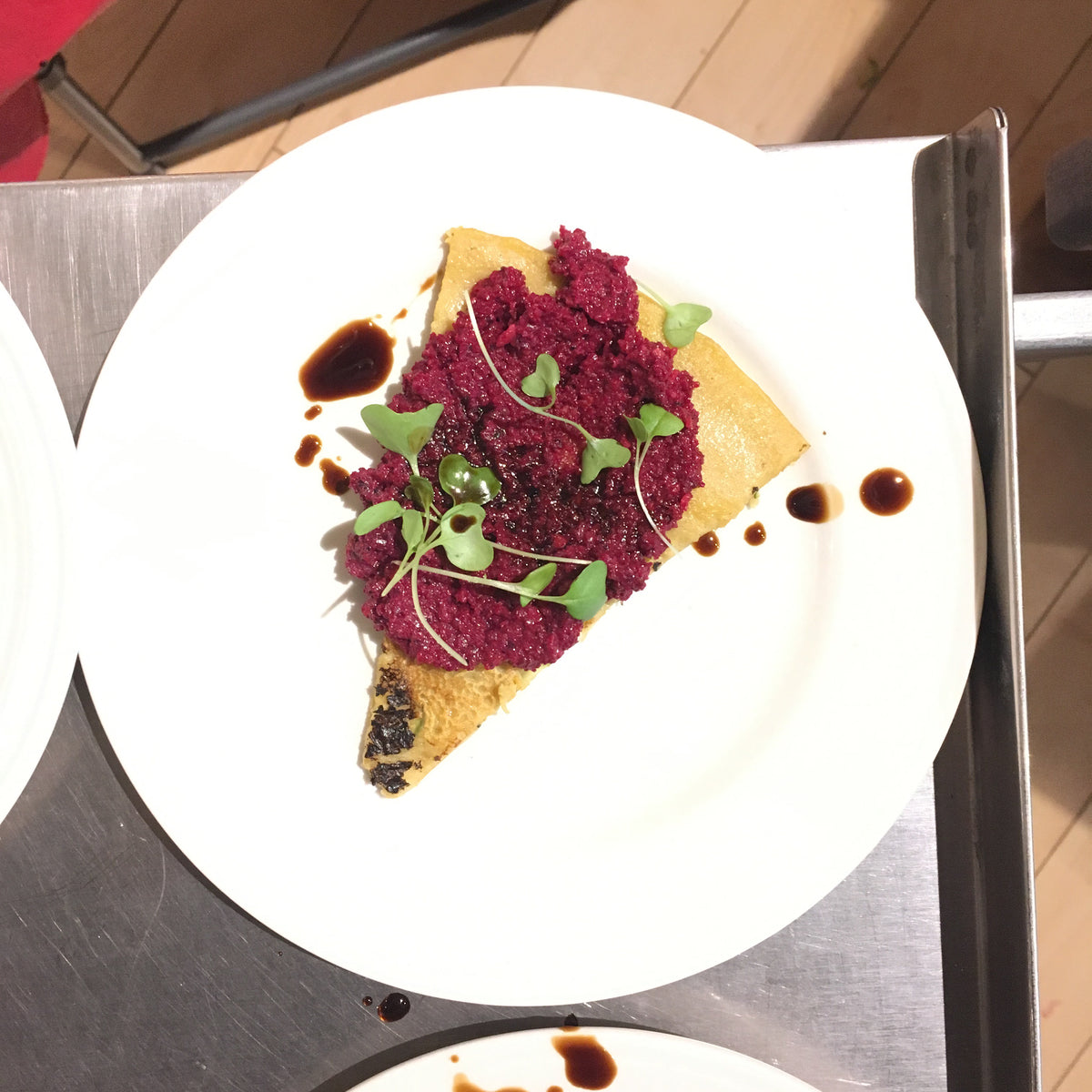 Ingredients:
2 1/2 cups chick-pea flour* (also called gram or garbanzo flour)
2 cups grated zucchini (water strained out)
3 1/2 cups fresh cold water
1 tsp salt & black pepper, or to taste
1/4 cup any Liquid Gold Extra Virgin Olive Oil
Directions:
-In a large mixing bowl, pour in the flour. Add the water gradually as you whisk the flour to keep any lumps from forming. Once all the water has been added, mix until completely smooth and add salt and pepper as desired and zucchini.
-Prepare a large rimmed cookie sheet by pouring the olive oil onto the bottom.
-Once the oven is hot, pour in the batter, making a layer about (1/4) inch deep. Careful, this is going to move a lot when you pick it up! Bake at 350 for 30 minutes, until golden. Remove from the oven when done and let cool a little before cutting & serving.
Beet and Basil Pesto Hummus
1 lb steamed beets
1/3 cup.walnuts or cooked chickpeas
1/3 cup nutritional yeast
2 cloves garlic
2 Tbsp.
Liquid Gold Sicilian Lemon White Balsamic
pinch of chili flakes
small handful basil
1/4 cup any Liquid Gold Extra Virgin Olive Oil
pinch black pepper
Directions:
-Blend all ingredients until nice and smooth.
This recipe was created by Chef Lauren Marshall from Coastal Healing during the Quick and Easy Dinners Cooking Class