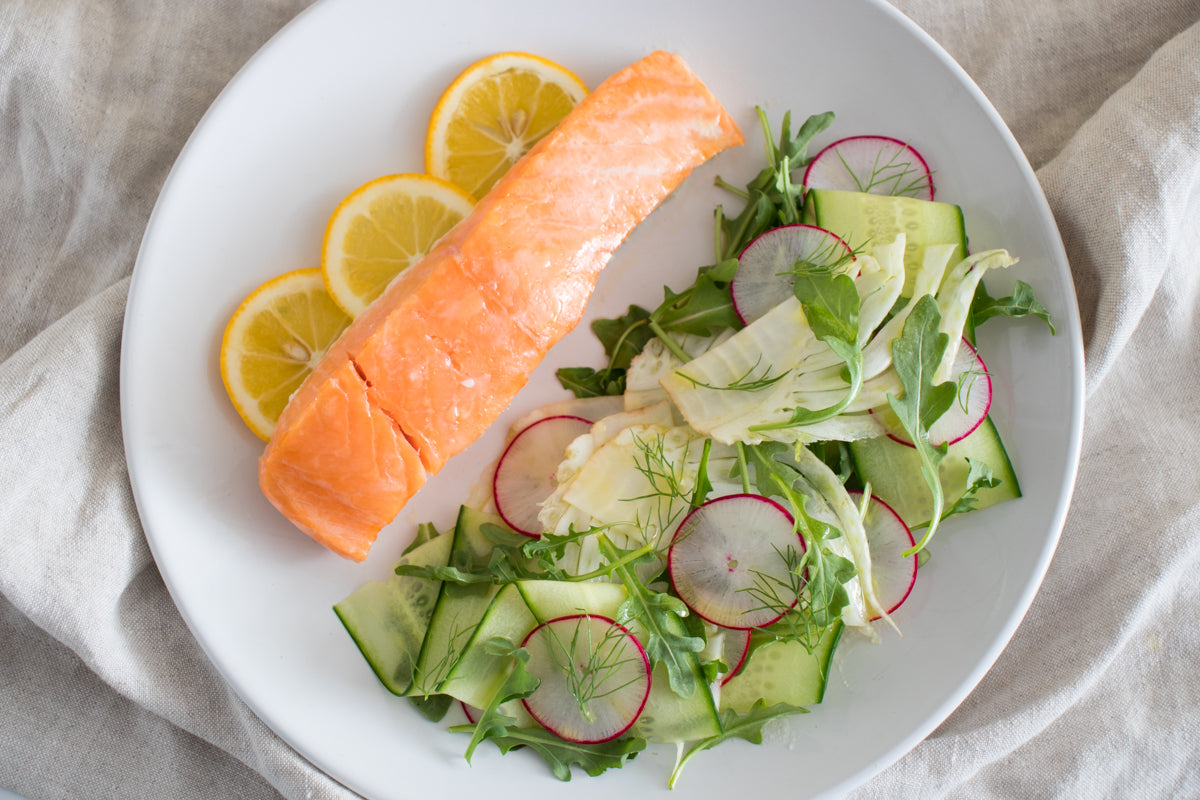 Ingredients:
4 cups LG Medium EVOO
2 garlic cloves, peeled and sliced
1 teaspoon salt
1/2 teaspoon cracked black pepper
4 6oz salmon fillets
Fennel Salad:
1/4 cup Dill Infused Olive Oil
2 tablespoons Grilled Lemon White Balsamic 
1 bulb fennel, thinly sliced (plus some fennel fronds for garnish)
1 cup cucumber, thinly sliced
1 cup radish, thinly sliced
2 cups arugula salt and pepper to taste
Instructions:
Preheat oven to 275°F. In a large saucepan, combine olive oil, garlic, salt, and pepper. Gently heat over medium to medium-low heat until the oil reaches 200°F. Transfer oil and aromatics to a high sided, small casserole (small enough to be able to submerge the salmon in the oil completely). Carefully place salmon fillets into the oil and place in the oven. Poach salmon for 30-45 minutes or until internal temperature reaches 140°F. Remove the pan from the oven and set aside to rest, about 5 minutes. In a small bow, combine dill olive oil and balsamic, whisk until blended, and set aside. In a large bowl, combine fennel, cucumber, radish, and arugula. Drizzle salad with half of the dressing and toss to coat, season to taste with salt and pepper. Divide salmon and salad between plates, garnish salad with some fennel fronds, and serve with remaining salad dressing on the side.