This an easy, fast side dish for any night of the week. Ingredients: 4 Carrots, peeled and finely grated 2-3 tbsps. LG Persian Lime Olive Oil 11/2 tbsps. LG Granny Smith White Balsamic freshly ground pepper & sea salt   Directions: In a bowl toss the grated carrots with the olive oil, balsamic, sea salt & black pepper. Serve as a starter or side dish.  
---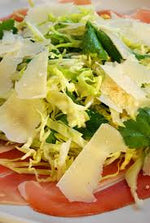 Ingredients: 24 Slices Prosciutto 1/2 Fresh Savoy Cabbage, shredded ¾ cup Liquid Gold Extra Virgin Olive Oil 2/3 cup Green Apple White Balsamic 2 cups Parmesan Cheese   Black pepper & Sea salt to taste     Directions: Place the shredded cabbage in a bowl, and add the olive oil salt and pepper to taste. Toss together, then add the Balsamic Vinegar. Add the parmesan to the cabbage mixture and toss. Arrange the slices of prosciutto over each plate and cover with 2 tablespoons of the cabbage and parmesan mixture. You could dribble a little extra Balsamic Vinegar and extra...
---
4 fresh Annapolis Valley Apples, peeled and chopped 1/3 cup brown sugar 1 tsp Epice de Cru Pumpkin Pie Spice 1 package frozen puff pastry sheets (2 per package) 1 cup whipping cream 2 Tbsp white sugar ½ cup Liquid Gold Cinnamon Pear Dark Balsamic   Toss apples with pumpkin pie spice and brown sugar Cut puff pastry into 3" rounds and prick all over with a fork. Gently press into greased cups of a muffin pan. Spoon apple mixture into cups, make sure they are filled generously Bake at 375 for approximately 30 minutes until bubbling. Remove from oven...