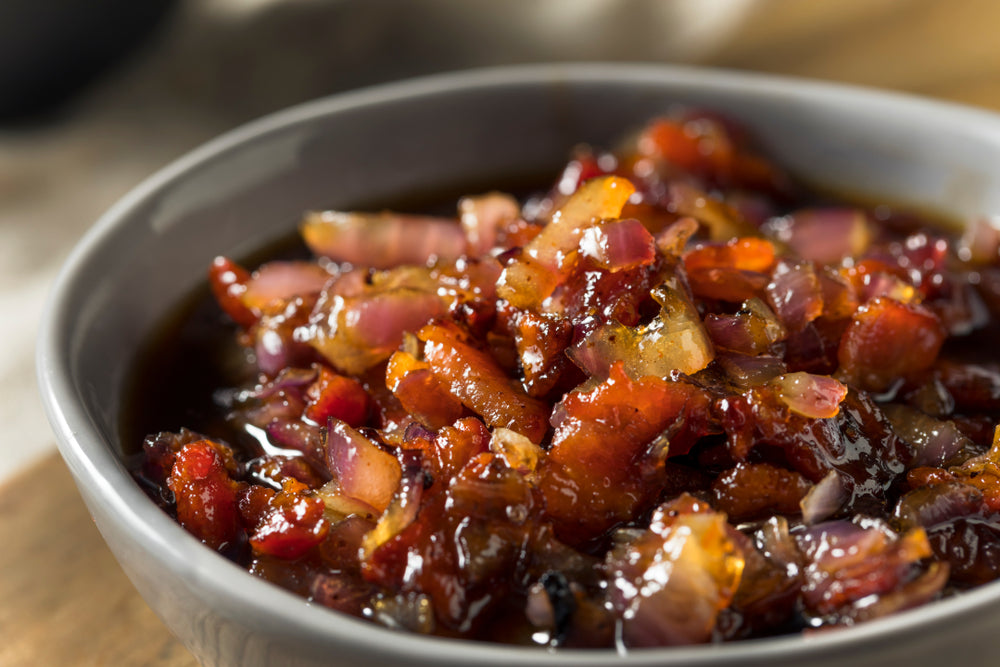 Ingredients
1 pound lean bacon, cut into 1 inch pieces
1/2 red onion, chopped
1 Tbs minced garlic
1/2 cup brown sugar
1/2 cup brewed coffee
1 Tbs grainy mustard or dijon mustard
1/2 tsp red pepper flakes
Instructions
In a large skillet, brown bacon. 
When bacon is done and not to crisp transfer to a paper towel lined dish with a slotted spoon. 
Remove the bacon from the paper towel and place on another clean paper towel to absorb more bacon grease.
Chop bacon into smaller pieces.
Pour off bacon grease and reserve 1 tablespoon.
Add onion to reserved grease and sauté for about 5 minutes or until onions are limp.
Add garlic and stir in with the cooked onions.
Add vinegar and deglaze the pan.
Add brown sugar, coffee, mustard, add bacon.
Reduce heat and simmer stirring occasionally for 1-2 hours until it thickens like a jelly.
Add red pepper flakes and stir until combined. Store in refrigerator for up to 4 weeks.
Recipe adapted from Cooking With K