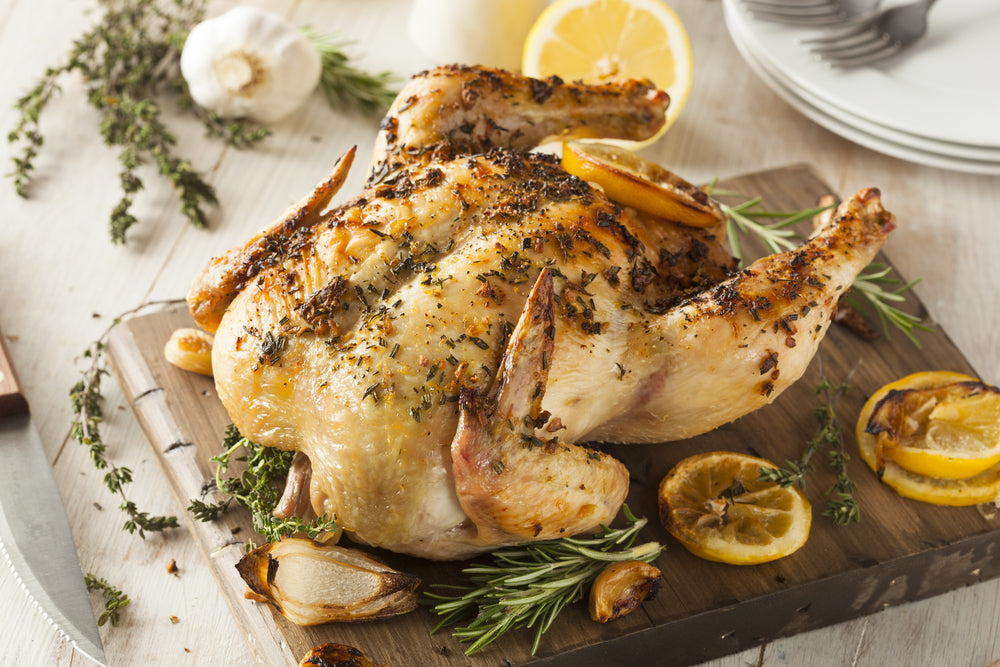 Marinading the chicken over night makes it tender and juicy, worth the little extra work! If you are short on time you can skip the marinade. 
Marinade
Ingredients
½ cup Red Wine
1/2cup  Balsamic Vinegar, I used LG A1 Premium White Balsamic.
2 cup Chicken Broth
½ Red Onion, Chopped
3 cloves Garlic, Chopped
2 Tbsp Sea Salt
1 tsp Pepper
2 Tbsp Fresh Rosemary, chopped or 2 tsp crushed dried Rosemary
Directions
Mix all ingredients together.  
Place chicken in brining bag, pour in marinade. 
Top with water or more chicken broth until chicken is covered. 
Marinade in the fridge overnight.
Roast Chicken
Ingredients
½ Red Onion, diced
½ Tbsp Fresh Rosemary, chopped or 1 tsp dried rosemary chopped
2 cloves Garlic, minced
½ cup red wine
1 cup chicken broth
½ tsp salt
Directions
Preheat oven to 350.  Place all ingredients in a roasting pan. 
Remove chicken from brining bag, pat dry. 
Lay chicken in roasting pan, surround it with potatoes and carrots.
Rub Rosemary oil on the chicken and sprinkle with seasoning salt. 
Place in the oven for 2-2.5 hours or until the thermometer inserted in the thickest part of breast reads 170-175.  Cover loosely with tin foil if chicken browns too quickly.
Use pan drippings to make an amazing gravy.