Recipes — Butternut Squash Seed Oil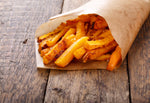 Slightly sweet, slightly spicy, and oven baked, not deep fried. Ingredients:  1 Pound uncooked butternut squash.  (Approximately 16 pieces about 3/4in thick.) 2 T Liquid Gold Butternut Squash Seed Oil Salt (Pepper) 1/2 t chili powder or to taste (I love all of the Epices de Cru chili spices for different taste options) Directions;  Preheat oven to 450 F.  Brush baking sheet with olive oil. Arrange fries on sheet, brush liberally with Butternut Squash Seed Oil, and sprinkle with salt and chili pepper. Cook for approximately 14-17 minutes, or until crisp, turning once.  
---
  Ingredients: 2 Ripe bananas, peeled and cut into quarters ½ Stick of butter ½ cup Brown sugar, packed tightly 4 Tbsps. Roasted Butternut Squash Seed Oil ¼ cup Dark Rum (optional)   French Vanilla Ice Cream   Ground cinnamon for finishing Directions: Melt butter in large skillet over medium heat. Add oil. Stir in brown sugar until dissolved. When mixture bubbles slightly on edges, add banana slices and baste fruit in pan, about 30 seconds. Add rum if desired (using caution, as pan may flame) Place one scoop of ice cream on each dessert plate. Add banana slices and...