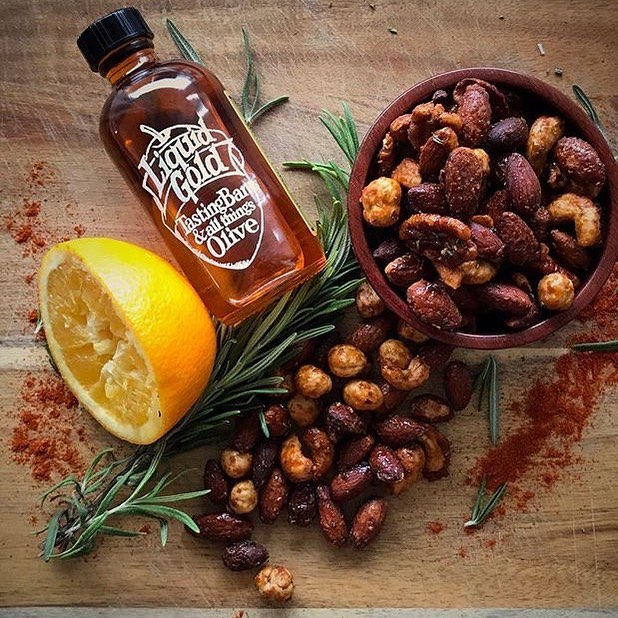 Chef Dany Duguay's Chipotle Orange & Rosemary Roasted Mixed Nuts
This collaboration is a part of Chef Dany's #localwithchefdany project
Ingredients:
6 cups roasted, unsalted mixed nuts of your choice
2 tsps Liquid Gold Chipotle Infused Olive Oil
1/3 maple syrup
2 TBSP maple sugar
Zest of 1 orange
Juice of 1 orange
3 tsps dried chipotle powder
5 TBSP fresh rosemary, chopped, divided
Sea salt
Method:
350'
Combine nuts and all ingredients, excluding salt and half of rosemary.
Place in even layer on parchment and oil lined baking sheet.
Bake 25 minutes, stir twice.
Remove and season with salt and remaining rosemary.
Stir often until cool, so they don't stick.
Serve warm or room temperature.
Photo and Recipe by Chef Dany Duguay 
Chef Dany Duguay is a Certified Personal Chef, Pastry Chef and On site Caterer
She has a passion for local products, healthy eating, and creating unique recipes. On Instagram she uses the hashtag #localwithchefdany to feature her favourite local businesses who have great products and inspire others to eat healthy. We have been thrilled to be a part of this collaboration! Thanks Dany!
Liquid Gold Instagram: @liquidgoldtastingbar  be sure to use our hashtag #liquidgoldathome
Chef Dany Duguay Instagram: @chefdanyduguay