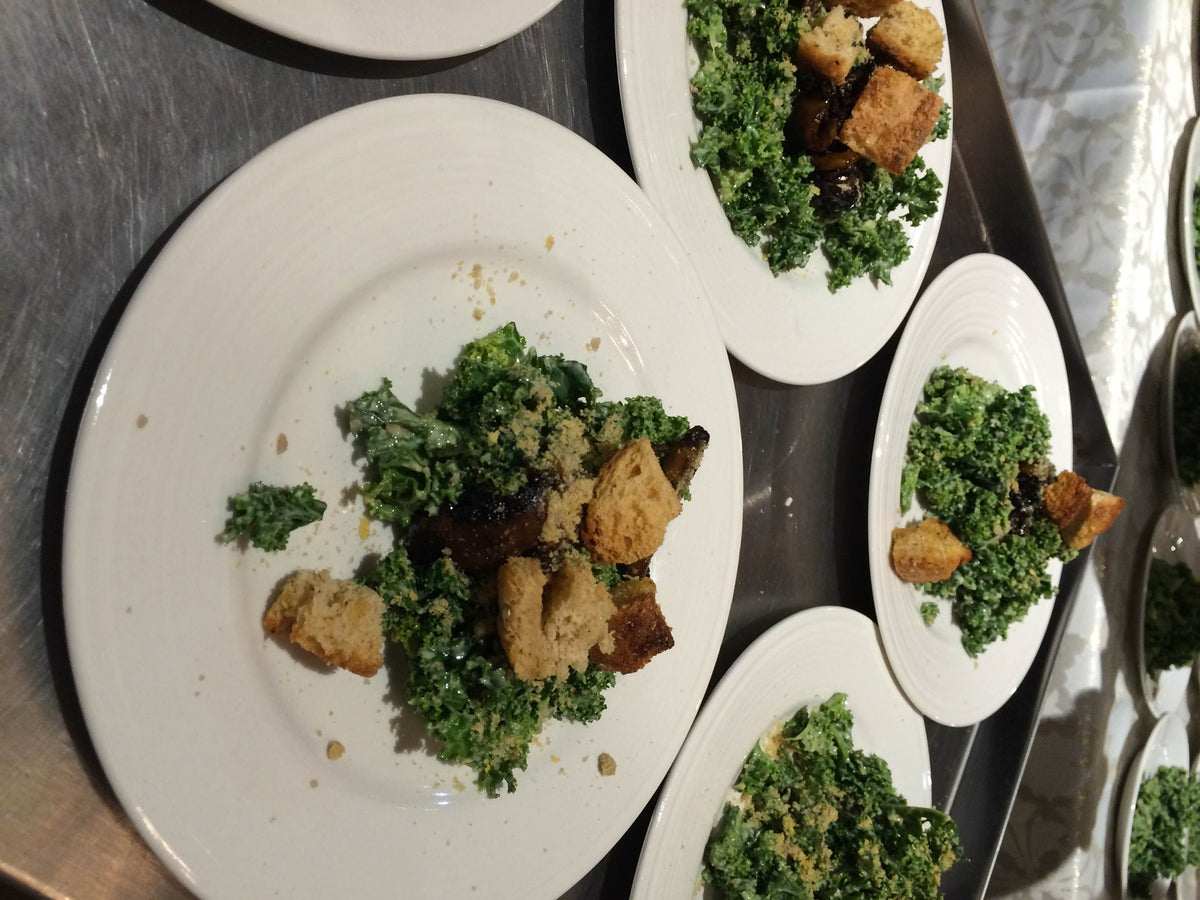 Bakun Crumbles
2 cups shredded portobello mushrooms
2 Tbsp. Liquid Gold Medium to Robust Extra Virgin Olive Oil
2 1/2 Tbsp. Liquid Gold Maple Balsamic
1 tsp Epice de Cru smoked paprika
Method:
-Preheat oven to 350F. Place a piece of parchment paper on a baking sheet.
-Thoroughly mix all ingredients into the mushrooms.
-Bake in oven for 15 minutes. Stirring halfway though.
————————————————————————————————————-
Sunflower Seed Parm
1 cup raw sunflower seeds
6 Tbsp. nutritional yeast
1/2 tsp. garlic powder
1/4 tsp. onion power
1 tsp. ground sea salt
Method:
-Blend in food processor until fine and crumbly.
-Store in refrigerator for up to 1 month, or freezer for 3 months.
—————————————————————————————————————-
Dressing and Salad Ingredients:
6 cups of Kale
1 cup croutons
1 12 oz. package soft Silken Tofu
4 cloves garlic, peeled and roughly chopped
juice of 1 medium lemon
1/4 cup Liquid Gold Mild Extra Virgin Olive Oil
1 teaspoons Dijon mustard
1 1/2 teaspoons coarse sea salt
1/2 teaspoon ground black pepper
½ Tbsp. Liquid Gold Red Wine vinegar
2 Tbsp. dulse flakes (or other type of seaweed)
Method:
-Blend all the ingredients except oil and greens in blender. Make sure it becomes nice and creamy.
-Slowly stream in oil to the blender to emulsify the dressing.
-Let dressing sit in fridge for 30 minutes to allow thickening.
To Assemble:
-Toss the salad with enough dressing to coat. Top with mushrooms bacon crumbles, sunflower seed parm and croutons.