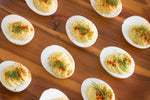 Ingredients 12 eggs                                                        2 tsp lemon juice 1/2 cup Arbequina  EVOO                           pinch of black pepper 1 tsp Dijon                                                    pinch paprika 1 T capers                           ...
---
 Ingredients: 1/2 tsp. LG Harissa Infused Olive Oil 1/2 small onion, diced 1 tsp. paprika 1 tsp. turmeric 1/4 tsp salt 1/3 cup water 2-3 cups 1/4" cubed sweet potato 1-2 eggs 1-2 ounces goat cheese   Directions:  In a large skillet, heat Harissa olive oil to medium heat. Add the onion and cook until translucent, 4-5 minutes. Stir in the paprika, turmeric,salt and water and combine. Stir in the cubed sweet potato, enough to fill the skillet. Cover and cook until potatoes are tender 6-8 minutes. Create a small well in the middle of the skillet and crack the...
---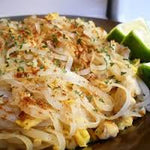 Ingredients: 1/8 cup Fish sauce 1/8 cup Soy sauce 1/8 cup Rice vinegar 1/8 cup Brown sugar 1 Tbsp. + Japanese Roasted Sesame Oil + extra 1 Tbsp. Sriracha   Fresh lime juice     4 oz. pkg. Pad Thai Noodles, cooked according to directions. 1 cup Bean sprouts 1 Egg ½ cup Firm tofu, diced 8-10 Shrimp, peeled and deveined ½ Shallot   Peanuts   Green onion for garnish     Directions: Combine ingredients for sauce and whisk until sugar is dissolved. In pan, add 1 tsp. of Japanese Roasted Sesame Oil and sauté shrimp or chicken until cooked...